Main Street USA is the first land that you encounter when you enter Walt Disney World's Magic Kingdom. Most people rush through on their way to something more thrilling, but there are countless educational elements if you take the time to stop and look around. As you're "walking right down the middle of Main Street USA," as the song says, here are some lessons to learn.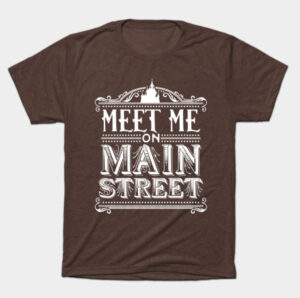 Setting and Inspiration of Main Street USA
Main Street USA is set in a charming Victorian era train town at the turn of the twentieth century. Many say it was inspired by Marceline, Missouri, where Walt Disney spent some of his early childhood, but the area also shares a great deal of inspiration from Fort Collins, Colorado, and even Chicago, Illinois.
Magic Kingdom's initial land is set in the very specific period from 1890 to 1910, which allows for the usage of both horse-drawn carriages and motor vehicles, as well as both gas and electric lighting. It also draws some inspiration from Disney's 1955 animated film Lady and the Tramp, which takes place in a Midwestern town in 1909, fitting perfectly into Main Street USA's time frame. Here you can find Tony's Town Square Restaurant, themed around the film, and outside the restaurant you can even find the heart drawn in the cement where the two love-dogs put their paw prints.
"Main Street, U.S.A. Is NOT Based on Marceline." Jim Korkis, Mouse Planet, 23 Jan. 2013. https://www.mouseplanet.com/10203/Main_Street_USA_Is_NOT_Based_on_Marceline. Accessed 5 Apr. 2020.
The Santa Fe and Early Railroad Systems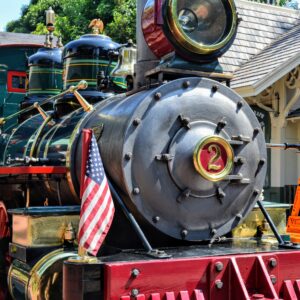 Inspired in part by railroad town Marceline, Missouri, it only makes sense that Main Street USA would house a train station. The Santa Fe Railway was one of the largest railways in the US, originally spanning from Independence, Missouri, to Santa Fe, New Mexico, along the Santa Fe Trail. Using the railroads allowed people and goods to travel at a much faster rate than they used to. This in turn heavily influenced the settlement of the American Southwest.
According to the city's website, sometime in the 1880-90's the Santa Fe Railway was expanded to stretch from Kansas City to Chicago, and Marceline was one of the many towns that opened up along the railroad. Towns sprung up along the route at regular intervals that would allow locomotives to refuel, restock supplies, and change out the crew.
"Santa Fe Trail." Encyclopædia Britannica, Encyclopædia Britannica, Inc., 21 Oct. 2019. https://www.britannica.com/topic/Santa-Fe-Trail. Accessed 5 Apr. 2020.
"Our History!." City of Marceline Missouri, 15 Jun. 2012. http://www.marcelinemo.us/home/history.html. Accessed 5 Apr. 2020.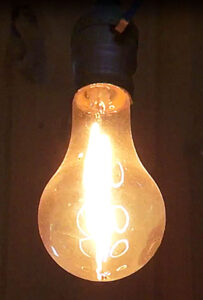 Early Electricity
The setting for Main Street USA in the turn of the century also meant towns and cities were transitioning from gas lighting to electrical lighting. This was a time where gas lights were still the main source of light in people's homes during the night.
In 1880 Thomas Edison patented his incandescent light bulb, which was brighter, more consistent, and much safer than the flames from candles and gas lamps. Edison initially brought his invention to well-off customers in New York City as a luxury, setting them up with bulbs connected to individual generators that would in turn light their homes.
J. P. Morgan was one such customer who also helped fund Edison's efforts to supply this new energy to more people. Edison started setting up power plants that could bring energy to multiple households and businesses. The General Electric company was born from these efforts.
Another man named Samuel Insull showed up in the picture to help Edison with the sales and business side of things so that he could concentrate on his work. Together, they were able to find better ways to bring electricity to even more people, creating power grids and reducing the cost of electricity. These advances took what had been a luxury product and turned electricity into an affordable part of everyday life.
On Main Street USA, go check out the Car Barn in Town Square, where you can find an Edison Bulb that Disney commissioned to be made in the same way that Thomas Edison made them himself.
"History of Electricity." Institute for Energy Research, 10 Jan. 2020. https://www.instituteforenergyresearch.org/history-electricity/. Accessed 5 Apr. 2020.
"WDW Radio Show #198." WDW Radio, Lou Mongello & Jim Korkis, 28 Nov. 2010. http://www.wdwradio.com/2010/11/main-street-usa-steven-miller-interview-disney-merchandise-show-198-november-28-2010/. Accessed 5 Apr. 2020.
Main Street Vehicles
The vehicles you'll find on Main Street are also indicative of the era. Here you'll find both horse-drawn vehicles as well as the motorized variety. Here are the vehicles you'll find traveling up and down the road from the train station to the castle and back!
Horse-Drawn Trolley
Another name for a vehicle like this is a horsecar. The horsecar, a trolley pulled along a track in the road by horses, was introduced in 1832 by a bank president named John Mason. Generally these could carry up to 30 people, and there were numerous variations of the horsecar which provided different seating layouts.
You could even find fully enclosed as well as double-decker horsecars. Naturally, the larger the vehicle, the more horses it would take to pull it, but you would usually see the simpler horsecars being pulled by one or two horses. Trolleys like these started out being used in larger cities like Boston, New Orleans, and Philadelphia.
By the 1880s, there were about 18,000 horsecars being used in other cites all around the United States.
According to Disney's website, they employ a variety of draft horses (bred to pull heavy loads, even though the trolley is light weight), including Clydesdales, Percherons, and Belgians. At Tri-Circle-D Ranch (located at Disney's Fort Wilderness resort) you can visit the horses and learn from the horse experts there.
"Horsecar." Britannica School, Encyclopædia Britannica, 2 Dec. 2018. school.eb.com/levels/high/article/horsecar/41108. Accessed 14 Mar. 2019.
"Horses - Disney Animals." Disney, 10 Aug. 2019. https://disneyworld.disney.go.com/attractions/animal-kingdom/disney-animals-horses/. Accessed 5 Apr. 2020.
Fire Engine
Main Street's Fire Engine is a replica of one of the first fire engines ever made. The earliest fire engines that weren't pulled by horses were steam powered, but these were quickly replaced by internal-combustion engines in the early 1900s. This new technology helped to improve the response times and effectiveness at fire emergencies.
Other features were added to the emergency vehicles to aid in fighting fires, such as powerful water pumps (also powered by the engine), long lengths of hose (usually 1,000 ft), and water tanks to be used in rural areas or where water supplies weren't readily available.
Auxiliary vehicles with other purposes were also developed, like water tank trucks and ladder trucks with large extendable ladders mounted to the vehicle, which often included a high powered nozzle at the top of the ladder.
"Fire engine." Britannica School, Encyclopædia Britannica, 25 Aug. 2010. school.eb.com/levels/high/article/fire-engine/34327. Accessed 14 Mar. 2019.
Omnibus & Jitney
Disney's Omnibus and Jitney cars are good examples of some of the early gasoline engine cars that started appearing around the turn of the century. First owned by the wealthy, cars soon became a necessity as Henry Ford made them more affordable, versatile, and easy to maintain, ushering in the automobile revolution. By the mid 1920's, the country was on wheels and the automobile industry had become an important part of the American Economy.
"Automobile." Britannica School, Encyclopædia Britannica, 21 Apr. 2017. school.eb.com/levels/high/article/automobile/110735. Accessed 5 Apr. 2020.