Imagine being able to carry your napping baby around with you while you travel around Walt Disney World and still be able to experience some of the rides! We've done this on many occasions having gone on two, sometimes three different rides and nobody had to stay back with the napping baby. How is this accomplished? Through the magic of baby wearing!
Baby Wearing at Disney World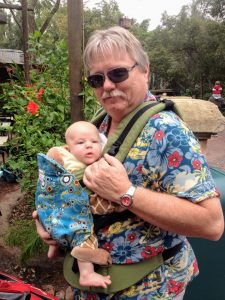 There are so many benefits to wearing your baby in a comfortable carrier:
Leave the stroller behind!
Even if you brought your stroller to cart your stuff, you can leave it in one place while you go around the land visiting attractions and shopping without shoving a stroller through crowds and small spaces.
Your baby is in their favorite spot: right next to your heart. He can turn to you for comfort when scared or overstimulated. When he's sleepy, he can just snuggle in and doze off and you can continue to experience attractions.
Hands-free (or mostly) nursing, with practice.
Save your back and arms when standing in a long line—which you will be doing without the stroller. A properly fitting and adjusted carrier shouldn't hurt.
Everyone can do it! We were visiting Disney World with Nonna & Ompa (Megan's parents) and Ompa even took a turn wearing our little one.