We had a problem. We were on day two of our Disney World trip and our son had lost his last and only "sucky," which is what we called his pacifier, and therefore we couldn't get him to sleep. Huge problem when you're planning to make the early magic hours at The Magic Kingdom the next morning!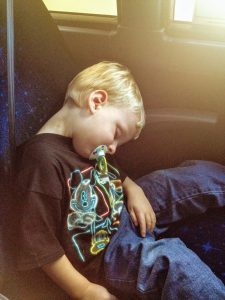 I can read your mind. You're asking, "Why in the world would you only have one pacifier?" It seems a little backstory is in order. At the time, our son was two years old and we had decided that we were going to try to retire his sucky and therefore weren't going to buy anymore as they got lost or needed replacing. The plan was to have him completely done with pacifiers before our Disney World trip because get this: we thought it would be easier to not have to worry about pacifiers on our trip!
Well, things always go according to plan, right? Wrong! The date for our trip arrived and we had one pacifier remaining. It almost seemed like he'd anticipated hanging onto that last one just so he could lose it on Disney property. Now that we're up to speed, let's get back to the situation at hand.
There we were, our son wasn't sleeping without his sucky, and to complicate matters even more, he was in an unfamiliar environment, in a different time zone, subjected to a disrupted schedule, and exhausted beyond measure from our trip so far. There was one item in the world that would solve our problems and it was gone!
After all, a family vacation wasn't the place to stick to our guns on the pacifier retirement plan.
Click To Tweet
I think you probably know what we did next. After all, a family vacation wasn't the place to stick to our guns on the pacifier retirement plan. I went down to the gift shop at our resort, looked for, and found our son's brand, and bought not one, but two suckys for him. He was out like a light within two minutes upon my return to our room. 
Packing for Baby for Your Walt Disney World Trip
Are you getting ready to pack for Baby for your Walt Disney World trip? There's a lot to consider and so many factors in play that can affect what you bring along. Are you flying or driving? How long is your trip? How light or heavy do you want to pack?
We'll break things down to everything you might want to consider for your trip as a whole, and then what you'll want to have daily in the parks with you.
Packing for Baby for Your Trip
These are all items you'll want to be sure to have packed away before you leave on your trip. 
Clothes
Certainly, you'll want to be sure that you have enough clothes for Baby for the duration of your trip. We'd recommend half again as many as days you're gone. For example, if you're going to be gone for 6 days, you'll want to bring 9 sets of clothes. For pajamas, we usually bring one set per night we're there.
Of course, you know your baby, so if you have a really "spitty" baby, you may want to bring more, or if your baby is unusually clean, you may be able to get away with less. Keep in mind, that there are laundry facilities in all the resort hotels which may be especially useful for longer stays. 
Diapers 
We cloth diaper, which is its own animal, and we'll go into more detail on that in a different post. For diapers in general, take however many diapers your baby goes through in a day normally, and add two to that. Multiply that by how many days you'll be gone, and that's how many diapers you'll need for your trip. Don't forget wipes, powders, ointments, and a wet bag (just in case).
Here are a couple things to consider: since diapers are bulky, rather than bring them in your luggage, you might want to include a pack of diapers in an order from Garden Grocer or Amazon Pantry, to be delivered to your hotel room when you get there. Of course, bringing them in your luggage could be a way of saving some room for souvenirs for the return trip. 
When it comes down to it, if you do find yourself in need of diapers or other paraphernalia, they're also available at the hotel gift shops and baby centers in the parks. You'll have to pay a premium for them though. 
Regarding Diaper Blowouts
By the way, here's a helpful tip when it comes to "diaper blowouts." If you're a parent, I think you're probably familiar with what a blowout is. Yeah, it's that. On our first trip with our daughter, we decided to use disposable diapers on our trip (we usually cloth diaper), and she kept having blowouts! In one incident, it was so bad that the blowout ended up on the floor in the lobby of Port Orleans French Quarter. Embarrassing!
Well, here's how you can avoid that happening. Buy some cloth diaper covers. We really like Thirsties covers for this. You can fit them over all disposable diaper sizes and they have elastic that prevents the, ahem, 'mess' from traveling up your baby's back. You'll probably also want to have a wet bag on hand to hold the soiled covers. If not, I'm sure a ziplock bag would work too. You can then just give them a quick rinse in the bathroom back in your room and hang them up. They'll be dry and ready again by morning. You're welcome! 
Baby Food
Definitely bring what your baby will eat. In the past we've bought two bottle setups, so we would always have two ready to go for the day and then be sure to wash them out each night when we got back to the hotel room. 
If your baby is eating more solid foods, be sure to bring pouches of what they need, because you won't be able to find that in the parks. This also might be a good candidate for an order from Garden Grocer or Amazon Pantry. Don't forget to pack a couple of spoons and some spit-up rags!
Baby Carrier
A comfortable baby carrier is probably our number one must-bring for any park trip. With a good carrier, you can easily go sans stroller without killing your back or arms. Your baby will also have a comfortable place to nap and you can even get on and off many rides while they sleep. We did that on our last visit with our 20-month-old who rode numerous rides with us while sleeping cozied up in my carrier.
Look for a good soft-structured carrier. We suggest Ergobaby, Lillebaby, Kinderpack, or Tula.
Consider your baby's age and whether the carrier requires an infant insert for younger babies. Tula and Ergo both require an insert to help lift and position the baby until they are about 6 months old, which can be hot and annoying to deal with.
For our trip to Walt Disney World when our youngest was 3 months old, I bought a Kinderpack because for young infants there is no insert required. You simply cinch the area that the baby sits on. I love it!
Ergo has a new carrier that doesn't require an insert, and Lillebaby doesn't require one either.
If you can, try it before you buy it. Many areas have local babywearing groups that can give you advice. Some even have lending libraries or playdates for trying out different carriers. Our local babywearing group has regular park days where the admins bring along a ton of different carriers to try out so parents can get a feel for what will work for them.
What to Pack for a Day in the Parks with Baby
Here is a list of things you'll want to remember to pack before you head out into the parks with babies and young kids. (There are even a few things in there for you.)
What are some of the things you make sure not to forget? Did we miss anything? Do you have any horror stories? Please share in the comments below. 
---
Special thanks to Sara Ryan from our Facebook Group for helping out with this post. 
Disclosure: Some of the links in this section may be affiliate links, meaning we earn a small portion of any sales at no extra cost to you. Thanks for your support!