Imagine being able to carry your napping baby around with you while you travel around Walt Disney World and still be able to experience some of the rides! We've done this on many occasions having gone on two, sometimes three different rides and nobody had to stay back with the napping baby. How is this accomplished? Through the magic of baby wearing!
Baby Wearing at Disney World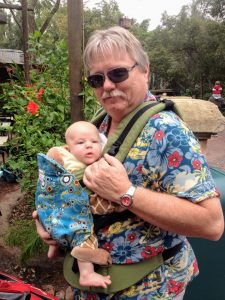 There are so many benefits to wearing your baby in a comfortable carrier:
Leave the stroller behind!
Even if you brought your stroller to cart your stuff, you can leave it in one place while you go around the land visiting attractions and shopping without shoving a stroller through crowds and small spaces.
Your baby is in their favorite spot: right next to your heart. He can turn to you for comfort when scared or overstimulated. When he's sleepy, he can just snuggle in and doze off and you can continue to experience attractions.
Hands-free (or mostly) nursing, with practice.
Save your back and arms when standing in a long line—which you will be doing without the stroller. A properly fitting and adjusted carrier shouldn't hurt.
Everyone can do it! We were visiting Disney World with Nonna & Ompa (Megan's parents) and Ompa even took a turn wearing our little one. 
Babywearing on Rides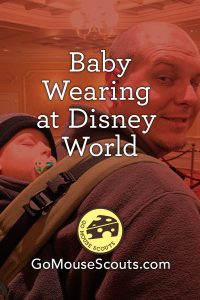 Believe it or not, babies can be worn on many rides!
…as long as there are no height restrictions. On rides with height restrictions, your child will be required to sit on the seat themselves.
Some rides that prohibit lap sitting may be exceptions where babies would have to be able to sit on the bench next to you. With this in mind, buckle carriers (think Ergo, Beco, Lillebaby) may be best for visiting Disney.
Babies in other types of carriers, like wraps or ring slings, may need to be removed from the carrier before riding. This makes it easier for them to remove the baby from you in the event of an emergency.
On a trip with a friend and our 6-month-old babies, I was allowed to wear my baby in my Ergo on Toy Story Mania while she had to remove her baby from her Moby Wrap. They told me this was because my carrier had buckles.
Your baby still needs to be under the lap bar or seatbelt, worn or not.
Once they hit about 9 months, my babies preferred to be taken out of the carrier and sit on my lap.
You cannot wear your baby on your back on rides or on the tram.
For help finding the perfect carrier for you and your baby, look for your local babywearing group.  Many groups have lending libraries or play dates where you can try on lots of different brands and styles of carriers. They would love to help you and your baby find the perfect carrier for your needs! Also, try Facebook or Babywearing International to find a local group.
What Can Babies Ride at Disney World?
Animal Kingdom
Kilimanjaro Safaris
Maharajah Jungle Trek
TriceraTop Spin
Wildlife Express Train
Disney's Hollywood Studios
Toy Story Mania!
Epcot
Frozen Ever After
Gran Fiesta Tour Starring The Three Caballeros
Journey Into Imagination with Figment
Living With the Land
The Seas with Nemo & Friends
Spaceship Earth
Magic Kingdom Park
Astro Orbiter
Buzz Lightyear's Space Ranger Spin
Dumbo the Flying Elephant
Haunted Mansion
"it's a small world"
Jungle Cruise
Liberty Square Riverboat
Mad Tea Party
The Magic Carpets of Aladdin
Main Street Vehicles
Peter Pan's Flight
Pirates of the Caribbean
Prince Charming Regal Carrousel
Tomorrowland Transit Authority PeopleMover
Under the Sea ~ Journey of The Little Mermaid
Walt Disney World Railroad
Walt Disney's Carousel of Progress
Using Rider Switch
If you do want to go on some of the more thrilling rides, you should consider using Rider Switch which we'll cover in a different post.