Kit talks about our recent trip to Disneyland where we spent time with Josh Taylor from Network 1901, shot some video for their Youtube channel, and found some Disneyland secrets! Then he talks about his 3 favorite things to do at Disneyland!
Go Mouse Scouts Giveaway!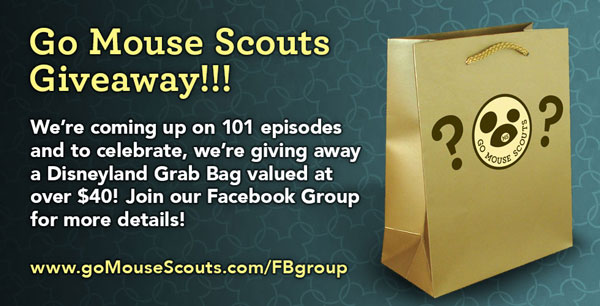 We're coming up on 101 episodes of Go Mouse Scouts and to celebrate we're giving away a Disneyland grab bag valued at over $40! This has a bunch of fun items that we've collected at Disneyland, and a couple of the items are Diamond Celebration specific.
Join our Facebook Group and check out the pinned post for details on how to enter!
Get in Touch with Go Mouse Scouts!
Email us at fun [at] gomousescouts [dot] com, find us on Facebook, Twitter, and Instagram.
Subscribe in iTunes, Stitcher, Google Play, and iHeart Radio.
Also, catch us on DiS-Versal Radio!