In this episode, Megan and I chat about saving money at Disneyland when it comes to food and souvenirs.
Saving Money at Disneyland: Food & Souvenirs
Food:
• Eat breakfast in your hotel room or at home.
• Pack in lunch. You can sit in the outdoor eating areas with food you bring in. We like to buy drinks when it's hot out, and you can get free ice water at any place with fountain drinks.
• Order an adult meal and split it between two kids. They'll probably get more food this way too, as kid's meals are pretty small.
• Don't order things you don't want. You can get a burger without the fries or a pizza without the salad for less than the meal.
• Order extras a la carte.
Souvenirs:
• Look for souvenirs in other places, like Disney outlet stores.
• The Disney store website offers park merchandise and often has sales.
• If the item isn't Disney park specific, look online for the same item at a better price.
Get in Touch!
Email us at fun [at] gomousescouts [dot] com, find us on Facebook, Twitter, and Instagram.
Subscribe in iTunes, Stitcher, and Google Play.
Also, catch us on DiS-Versal Radio!
---
FREE EBOOK: 10 Ways Families Can Save on a Disneyland Trip!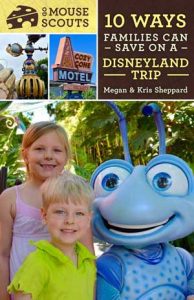 One of the very first things we hear when we talk to other people about visiting Disneyland is, "That sounds like so much fun, I wish we could go! It's just so expensive." After hearing this so many times, we started to look for ways that families could save on a Disneyland trip.
We found that while a Disneyland trip will be expensive (but totally worth it), you might be surprised to find that with a little forethought and planning, it can be within your reach!
In this short ebook, we've grouped our tips into three main categories: tips on saving and collecting extra money for your trip, saving on the trip itself, and ways to save at the parks on food and souvenirs. We even added five bonus tips on some free and inexpensive things you can do at Disneyland!
Sign up for our email list (below) and we'll email it right out to you! We'll also let you know when our Guide to Visiting Disneyland with Young Kids is released and keep you up to date on news, contests, and our latest podcast episodes.
By the way, you also get our two previous freebies: Disneyland Resort Scavenger Hunts and our Unofficial Day at Disney Resource Pack!