In this interview with Krystel Seijo, author of Disney World on a Budget, we talk about saving for Disney World and not breaking the bank when you get there!  Plus, we're giving away a free copy of her book!
Saving for Disney World!
Here are some of the points we cover during this interview:
• How far out should I start planning my trip?
• Best times to go in order to get the best bang for my buck.
• Best places to save money.
• Transportation.
• Staying on property vs offsite.
• Saving money on food.
• Strategies you use to save money in the parks.
• Her best tip for maximizing your budget.
• How to find balance between budget and vacation.
• Her favorite Disney Park's tip.
• Her favorite bit of Disney life or career inspiration?
Win a Free Copy of Disney World on a Budget! (Or get a discount!)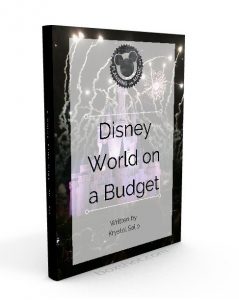 We're giving away a free copy of Krystel's book, Disney World on a Budget, to one lucky listener. All you have to do to be in the running is to comment on this blog post and tell us what your favorite Walt Disney World attraction is. You must comment by August 3rd and we'll announce the winner on our August 5 episode of Mouse Scouts!
You can also get a 15% discount on her already wonderfully priced book by using the coupon code MOUSESCOUTS at checkout.
Where can I find out more about Krystel Seijo?
Get in Touch!
Email us at fun [at] gomousescouts [dot] com, find us on Facebook, Twitter, and Instagram.
Subscribe in iTunes, Stitcher, and Google Play.
---
Check out our FREE Unofficial Day at Disney Resource Pack!
This resource has content taken from our upcoming book that includes lists of items you won't want to forget and other useful information that will come in handy when visiting the parks with kids.
Sign up for our email list and we'll email it right out to you! We'll also let you know when our book is released and keep you up to date on news, contests, and our latest podcast episodes.